danna Posted on November 16 2022
It's true that it's quite tricky to pick the perfect but not-so-boring gift for your teenage children that they actually want. Please don't give them a gift card or a just check ever which will take all the fun out of the Christmas holidays. After hours of research, we picked to perfect and coolest engine gifts for young car enthusiasts. Find the right Gifts for teenage car lovers that fit your budget and needs. See Stirlingkit's staff's Top Pick last-minute gifts for young car lovers! Ratings. Best Sellers. Reviews. Shop Deals & Offers. November Deals. Affordable.
From STEAM-approved kits teaching about topics such as how the engine works, and what the inside of an engine looks like, to steam engine, diesel engine offerings—and even the most-coveted new Radio Control car toys of the season, these gift ideas could give Santa a run for his money.
The ultimate gifts for A Teenage Gearhead from Stirlingkit
Building a 4-Cylinder Mini Engine Model Kit

Inline four-engine model kits will be the classic gifts for teen car enthusiasts because of their mechanically simple inline-four layout. build your own real engine kit, no matter how much budget you have. You can choose the plastic or full metal engine model kits to build. If your son really enjoys building stuff and taking stuff apart, Stirlingkit has several engine models for him or her as a birthday or Christmas present. Your teen boys and girls will have a fun time building it and is proud of their accomplishment. Just imagine you and your kids talking about what each part does and why.
$469.99
Plastic Model Engine Kits for sale

Haynes DIY Assembly Mini L4 Simulation Transparent Runnable Engine Model
$129.99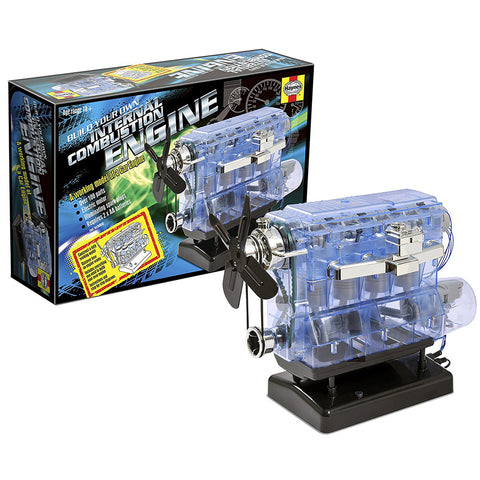 Smithsonian DIY L4 4 Cylinder Inline 4 Car Engine Assembly Model Kit
$89.99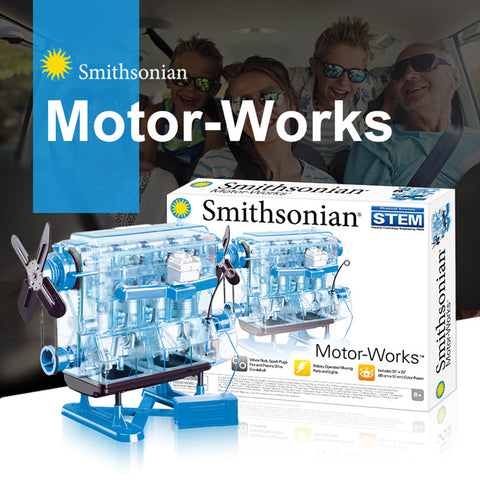 Build Your Own V8 Combustion Engine Kit
The V8 engine model is simply the best birthday present to choose for your 10-year-old and more teens who will definitely LOVE it. But it still needs to build it up with a little help (instruction) from the adults. It looked amazing and is running perfectly. Building a v8 engine is a Great kit for teaching. It is easy to put together and is fairly accurate in workings to a real engine. Instructions are easy to follow and it works well. It's very cool and educational to an aspiring, young mechanic. We have a few different v8 engine kit for you to buy if you have different budget.
Teching V8 Mechanical Metal Assembly DIY Car Engine Model Kit
$699.99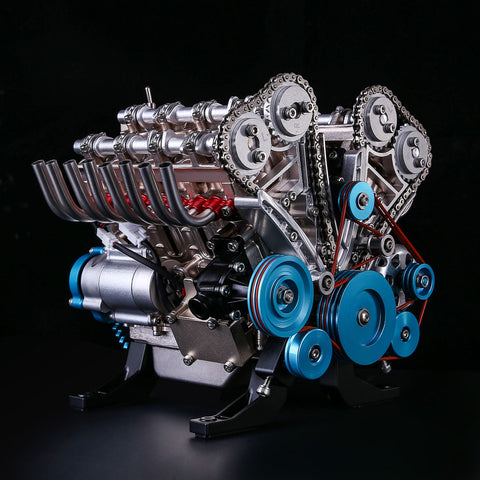 V8 Combustion Engine Model Building Kit
$89.99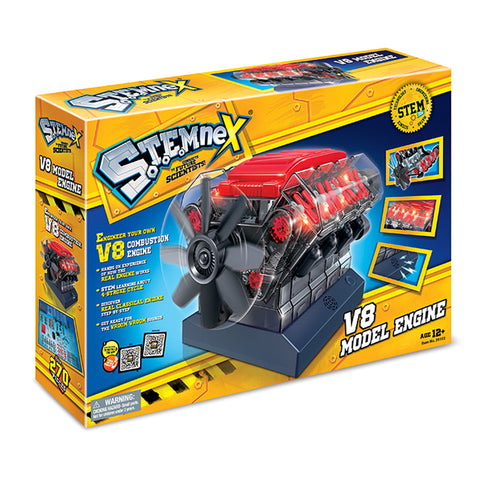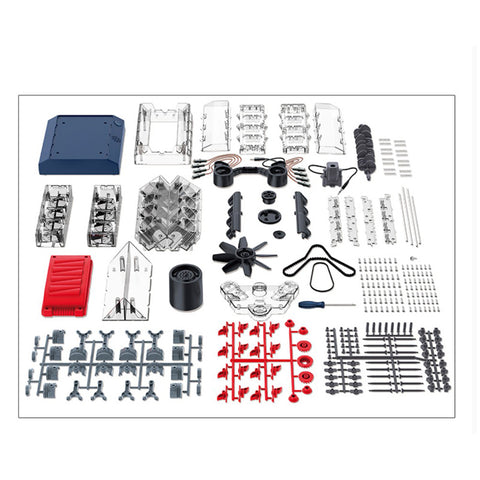 VISIBLE V8 Internal Combustion OHC Engine
$149.99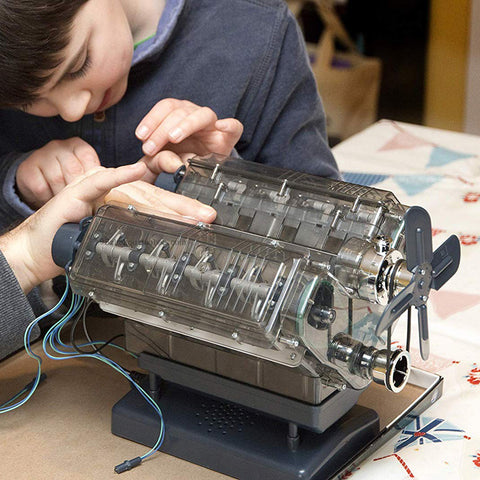 MAD RC DIY V8 Engine Model Kit for Capra VS4-10 Pro
$129.99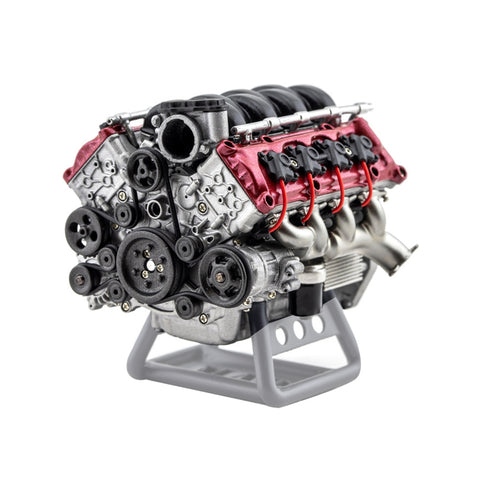 Build a Diesel Engine Model Kits That Runs
Workable Mini Diesel Engine Metal Model Kits
from $329.99
If your kids are born into a diesel family. i think he loves the smell of diesel in the morning! Teching culture makes complete electric diesel engine build Kits for diesel lovers. Let your teen children breathe new life into your car with diesel engine building kits. Our kits are fully CNC machined and a great economical option. Young diesel enthusiasts' interest in engine swaps is at an all-time high, spurred on by their dad's love of their diesel vehicles because this is the first mini diesel engine kit for them to build and learn how a diesel engine works. It's time to build 4 Cylinder Diesel engines from scratch with a detailed manual.
Building a Functional Four-stroke Engine Model
4 stroke engine build kit
Now your favorite teens can close their model engine kits that run on gas or nitro at an affordable price, and lose themselves in their favorite building time! Great engine sound and informative teaching!  Most positive reviews on Stirlingkit! If you want your young teenager to really get a grasp of how an engine really works, this is it!  The spark plugs lit up too when they were supposed to due to the working distributor. It's awesome. You can teach your teenagers a lot with this model.
FS-200AC: DIY A 4 Stroke, 2 Cylinder Engine Kit That Runs
$149.99
Otto Motor fs-200ac engine is one of today's hottest 4-stroke engine kits, with a waiting time of up to a year. This scale engine model by Toyan is an excellent gift for a young car lover or someone dreaming about one. It will look great on a desk or bookshelf, thanks to a CNC metal body with functioning crankshafts, among other details.

You can order bigger scale model kits that run on nitro of the Toyan, like FS-L400 and Toyan FS-V800. On the other hand, this mini 2-cylinder engine kit is a great option if you want a smaller gift that will still make a lasting impression.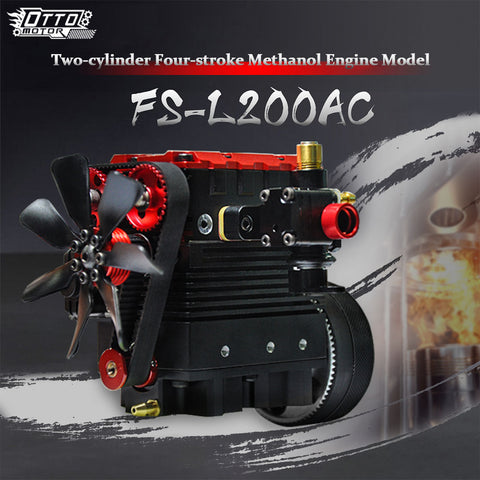 FS-S100AC : 4 stroke rc engine kit Build
$279.99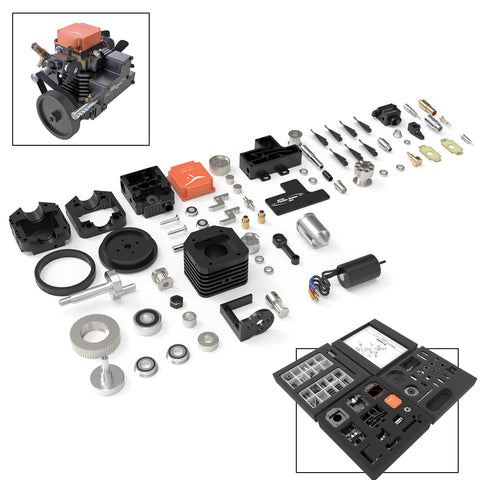 Toyan FS-L400 :a fully functional scale engine that you will have to assemble yourself

$899.99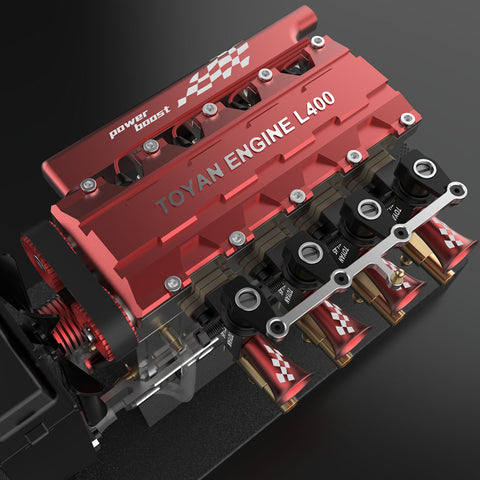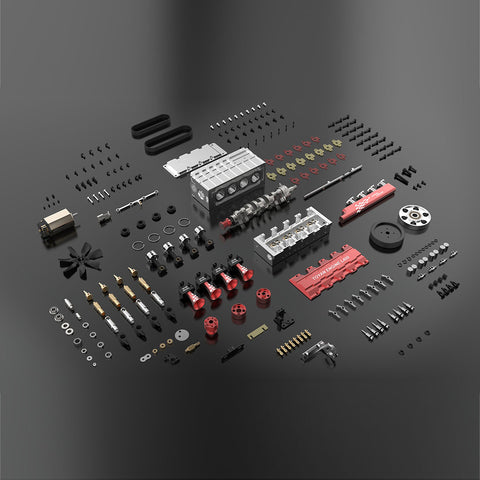 Build a V8 Engine that Run on Gas
 FS-V800: model v8 engine kit that runs on gas
from $1699.99
If your teen boys want to be model engineers in the future, I think building a model engine project will be fun for all. Build a realistic working v8 engine model of a combustion engine.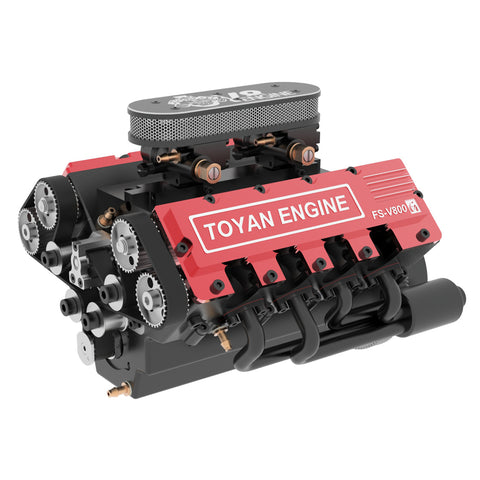 build a steam engine kit for school project
Hero's Steam Engine Model Kits
$129.99
Best pricing on Stirlingkit for working model steam engine kits. Check out this Model Hero's steam Engine Casting Kit for only $129.99. You can also find other model steam engine plans and kits at stirlingkit.com, where you can find a full range of tools and accessories for the young machinist, including everything for your mini steam engine. Best Model Engineering For Beginners who love steam power.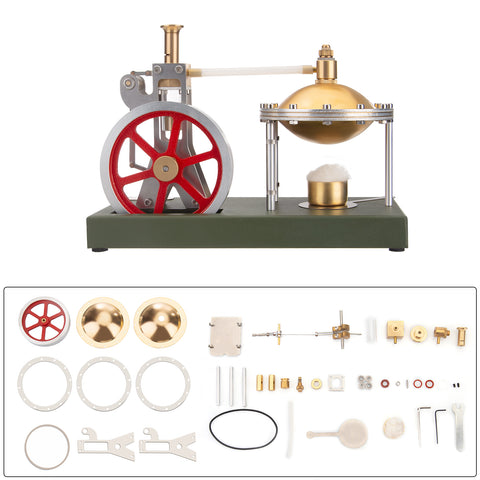 $469.99
Building an operating 5 cylinder model of 4-stroke airplane engines kits together with your teen boys and girls who love motorized engine. The radial aircraft engine kits was designed to show as many of the moving parts as possible. It's realistic and shows all main components of a real radial engine. This historical accurate model uses finely finished CNC metal 400+ parts, which makes a great desktop model, engineering demonstration. You'll be mesmerized by the mechanical action of this beautiful unique conversation piece.  This engine kit contains somewhere around 400 pieces.  Expect to spend between 1 and 3 hours building the scale engine model kits, although some have spent more time and others have spent less.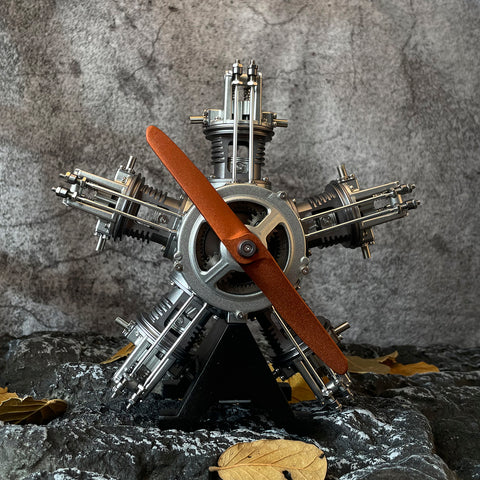 $379.99
A traction engine is a steam-powered tractor used to move heavy loads on roads, plough ground or to provide power at a chosen location. We pay homage to a bygone era of steam engineering with this classic metal traction engine vehicle kits. Our most ambitious model yet, immerse yourself in a whole host of cunning mechanisms and create a piece of history in your own home.

This fully operational engine is a replication of a traction engine of the 19th century, which unites the steam engine and the popular metal construction sets. The special color scheme combined with the tires give this engine an authentic historical look. The chimney of this engine smokes and there is a clutch for the drive. In contrast to the steam rollers, the traction engines are equipped with a long roof and two separate wheels fitted on the front axle. It's radio-remote controlled too. Available in blue and black, as an assembly kit. The illustrated description guides the user step by step to a complete steam model. Great gift for the traction engine enthusiast.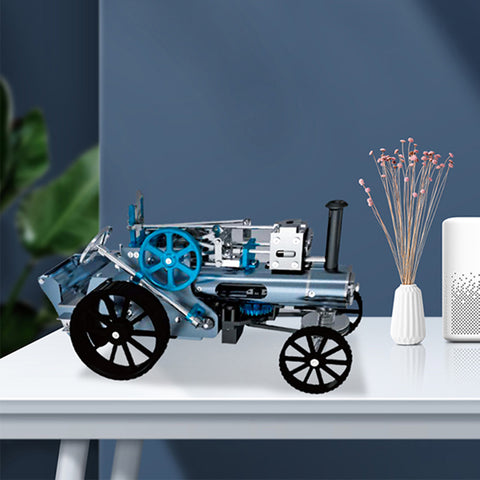 If your teens are tractor lover, please check the The Tractor Building Holiday Gift Guide. This red mini tractor kit will be the top 1 gift for tractor enthusiasts this holiday season – all sure to please! Make the holiday spirits bright with the Holiday Gift Guide for Teens at Stirlingkit. 

🚜 [INCREDIBLE DIY EXPERIENCE] - building our model tractors kits will draw out and propel your teens's ability to plan and build their own structure like a true engineer. Brain teasers for adults and kids have never been so entertaining and engaging. It takes about 30 to 60 minutes to put the metal tractor together, which helps explain how the tractor works.
👌 [EASY SELF-ASSEMBLY] - our tractor toys set includes 400+ metal CNC pieces, but the building is accessible for kids and adults
🎁 [BEST GIFT FOR ANY OCCASION] – tractor model will be a worthy addition to your kid's collection. Our RC farm tractor building kits for adults and kids will always be a welcome gift
👍 [DETAILED DESIGN] – our farm tractors come with a clear and precise manual as well as illustrations. Follow the manual to build the mini tractor set quickly and correctly.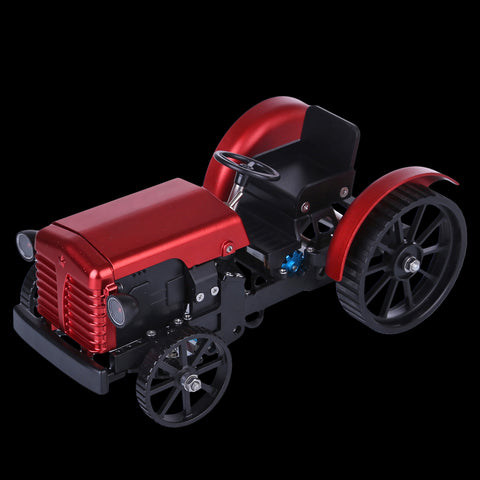 $439.99
If your young teens love old vintage cars just like you, and they also love to tinker and create, this vintage car building model kits will be a perfect choice for them as a Christmas gift. Classic cars not only appeal to car lovers, but also to lovers of engineering, design, art and history thanks to the nostalgia they evoke and the unbeatable driving experience that each model provides. After building this car, they will feel proud of themselves and they'll actually think this is the best cool gifts. It works well and is easy to operate by app.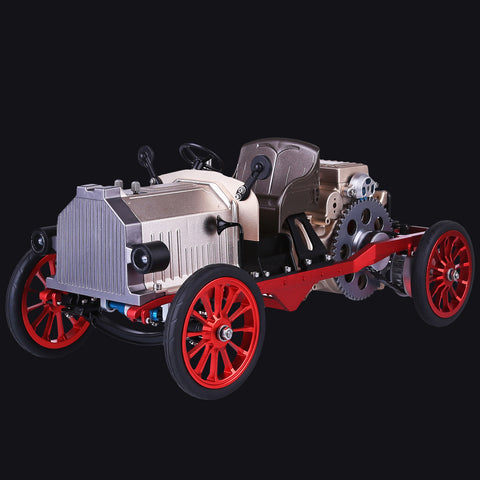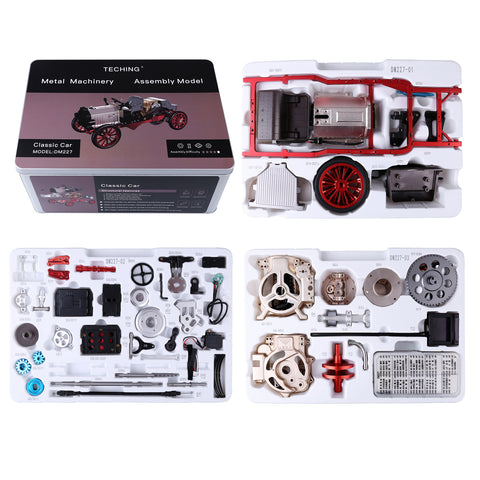 From all of us here at Stirlingkit, here's wishing you and yours a happy holiday season!