Tool Guide: Top10 Must-have Tools for Every Model Engine Builders
Are you ready to start building your engine kits now? Hold on. Please read tips on the necessary tools that you might need. so you won't be overwhelmed by the multi-choices of engine tools.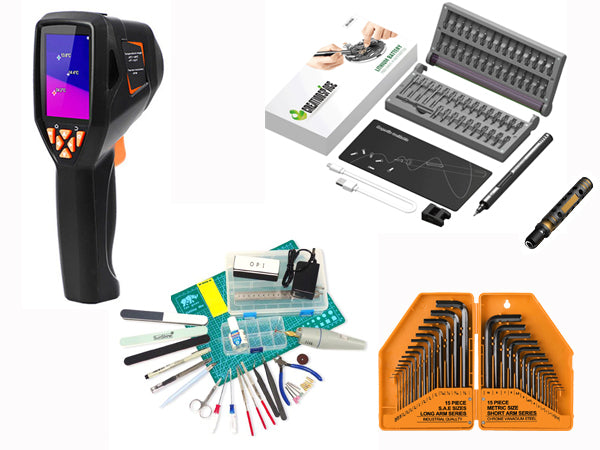 Engine Tools
Stirlingkit also provides model engine tools. We carry many types of diesel tools including Timing Belt Tools, Valve Train Tools, Flywheel Tools, Pulley Tools, Oil Pressure Tools, and Compression Gauges ... Get free shipping on qualified Engine Tools from Stirlingkit
Engine Tool Guide
View Details
Sleep Well With Dim Light
Light wavelengths have also been shown to be important. Shorter wavelengths (the color blue) can suppress melatonin, and longer wavelengths (the color red) may not have any effect on melatonin. LED lights, while being more energy efficient, tend to produce more blue light. Using dim or red lights before bedtime may help you sleep better.
Torque wrench
This 240mm mini torque wrench comes with 12 screws and a universal connecting rod. All are stored in a toolbox to meet the assembly needs of various engine model builds.
Hex Key Wrench Set
the mini Hex keys sets are easy to use for tightening and loosening hexagonal bolts and other compatible fasteners.And the mini effort-saving hex key wrench set is made of aluminum alloy on the body, with an anti-slip, bright and aesthetic surface and impressive hand feels. It's processed with heat treatment, chromium oxide treatment and an extension treatment, the firm, durable and anti-corrosion wrench can also be used with sweaty or dirty hands.
Mini Electric Screwdriver Set
The electric screwdriver can drive screws in tight spaces where a drill can't fit. Its size also makes it easier to store. It's designed with a handheld integrated operation mode, positive and negative rotation, a magnetic chuck design to automatically adsorb the head, a convenient Type-C charging port, and three LED lights which are evenly distributed in the front of the screwdriver.
Torque Screwdriver
The tool I'm using is called a torque screw driver, and it has multiple torque settings from 1 to 6 NM.It's used to tighten evenly the screws.
Universal Mini DIY Model Tools Kit
This set includes important tools indispensable for players in making or repairing models, such as military models, soldier models, mech models, train models, ship models, car models, airplane models, engine models, etc.
Short-Body or Stubby Wrench
Small wrench set is made of high alloy steel material and heat treated technology, which improves its strength, durability and surface corrosion resistance. Small wrenches are very sturdy and effectively prolong the service life.
bench Vice
Bench vises are usually made of two types of iron and steel, namely cast iron and forged steel. Cast iron is the most commonly used material in bench vises. It's cheaper than steel but not as stronger as the latter. Forged steel is a stronger and more expensive material.
Infrared Laser Contact Tachometer
Optical tachometers include an optical sensor that is used to measure the rotational speed of the wheel, motor, or shaft. They use a laser or beam of light to measure the RPM and are also able to measure any differences in the frequency of the reflected light.
Electric Airbrush
An Airbrush is a tool used by makers and creators to apply color to a surface. Airbrush users spray acrylics on plastic, makeup on the skin, watercolor on paper and so much more. When connected to an air compressor, an airbrush breaks a liquid into tiny droplets.
Infrared Thermal Imaging Camera
Thermal imaging is simply the process of converting infrared (IR) radiation (heat) into visible images that depict the spatial distribution of temperature differences in a scene viewed by a thermal camera.
Christmas Holiday Limited Offer
It's never too late to buy a gift for our beloved families and friends.
Shop Now