Posted on November 21 2022
1.Could you briefly introduce yourself to us?
My name is Dan and I am the content creator behind the YouTube channel Built by Dan, an automotive channel documenting the build of my first project car, a replica GT40 kit car. I started the channel to document the build process for myself, but also to show others, in as much detail as possible, what is involved in building a kit car.
2.I saw one of your video that you were lying on the floor with the listed car parts around. it look like a cool project. May I know what made you start to do a GT40 Kit car build project? Do you currently have plans for other projects that could use toyan engines if possible?
I've always had an interest in cars, and the GT40 is the first supercar I saw driving on the road, and from that day it has always stuck in my memory. I remember looking at GT40 kit cars back when I was 15 years old, and now 20 years later I finally get to live out my dream of building one!
I'm currently looking at ideas for builds I could add to my channel, I think a scaled RC car build would provide some good variety to the full-size car build I'm doing, so I think if I could find the right base for a RC car build I would definitely look at doing one, maybe an RX-7 with a Toyan rotary engine would be a fun project, or if I could find a GT40 body, it would be fun to do a GT40 RC build with the Toyan V-8!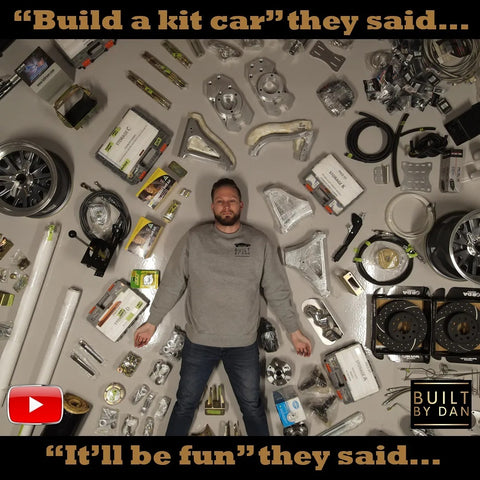 3.In your video that you told us you built a studio yourself. what inspires you to do so? Have you worked with other partners also? Because I just saw a dog in your video.
Outside of YouTube I work in the construction industry. I built my own house, and then upgraded my garage/studio to create a nice space to build and film the GT40 build. I often have my dog Spike by my side when working on the GT40, he's not much help though, he mostly just sleeps on his bed!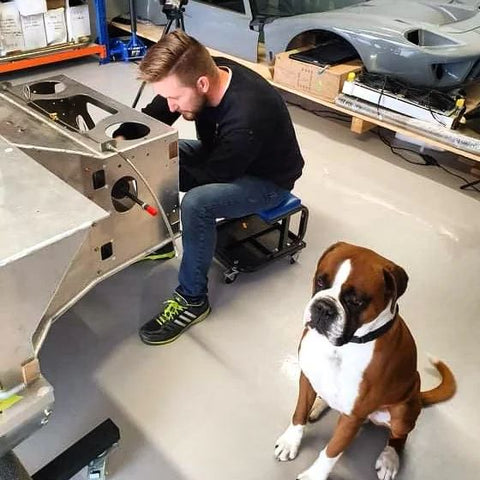 4.I like your car building video so much. Can you share how you first learned how to repair and rebuild the cars? What suggestion would you give to people who like but new to car repairs and modifications if possible?
Whilst I have always had an interest in cars, I had not undertaken any work on them myself, until I started my GT40 project car! The most I had done is build some 1:24 scale plastic model cars, so I had a bit of an idea as to the different components and how they go together. Other than that, I was always building things as a kid, so following instructions was easy for me.
In order to understand what I need to do to build my car, I spend a lot of time researching how things go together, mostly on the internet. I try to find lots of different photos to see how different parts should look when they are assembled. I find this is the best way to do it, particularly if you don't have detailed instructions.
5.In Australia, historically, the auto industry represents the most powerful force in manufacturing. For the auto industry, Australia is one of the most open and competitive markets in the world. Are there any car shows in Australia? Or is there any local associations for engine enthusiasts?
Unfortunately there is no longer vehicle manufacturing/assembly plants in Australia, but there are a lot of companies that design and manufacture different automotive components that have a good reputation all over the world.
There are a lot of car shows for all types of cars throughout Australia, I would often attend them when I was younger, and hopefully I will soon be able to attend and take my GT40 to show at one of them!
There are many car clubs that one can join where you can meet with other motoring enthusiasts, attend car shows, go on weekend cruises and support others who may be looking to purchase a similar vehicle.
6.For new users who first encountered Toyan v8 engine, there may be some issues with the assembly process. Which part do you think people should take care of before they start to build it or during the building process?
The Toyan engine is well built and the instructions are very clear showing every step, but there can always be steps that take a little more time to process and understand how the parts are to be assembled. My suggestion is to review the assembly instructions before you start, so you know roughly what order the parts go together. Secondly, take the time to confirm you have the correct parts, including hardware (bolts, screws, clips, etc.) before you start each step. It's better to take a little bit longer to make sure you assemble it correctly, rather than rushing it and having to pull half of it apart again to fix your mistakes!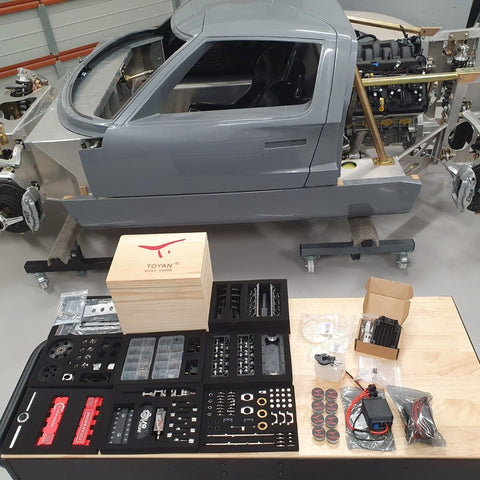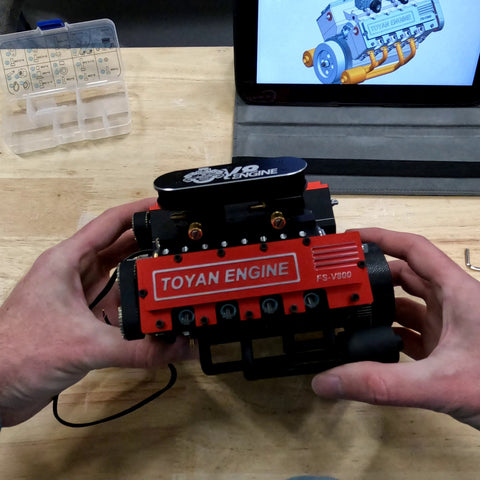 7.You have compared the Toyan v8 with your real car's v8, which make the Toyan v8 looks as small as a sesame seed. I'm wondering what you think of our miniature scale engine motor? If it were you, would you recommend Toyan FS-V800 to your friends? Why?
The Toyan V8 does look very small compared to my Ford Coyote V8, it's hard to believe it is 1:10 scale engine!
Overall I really enjoyed the build process for the Toyan FS-V800. All the parts were of a high quality of manufacture, they all went together easily / as they were supposed to and the instructions were detailed and easy to follow. The whole assembly process took me approximately 2.5 hours.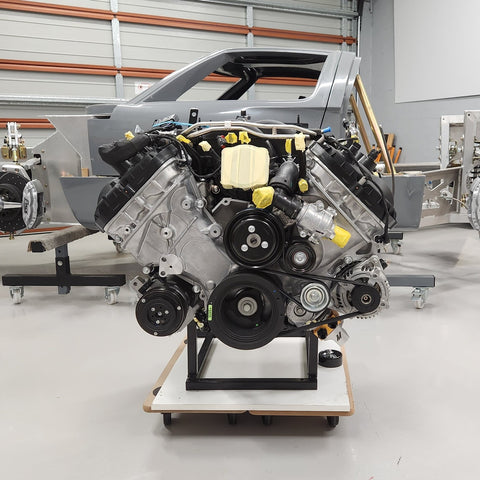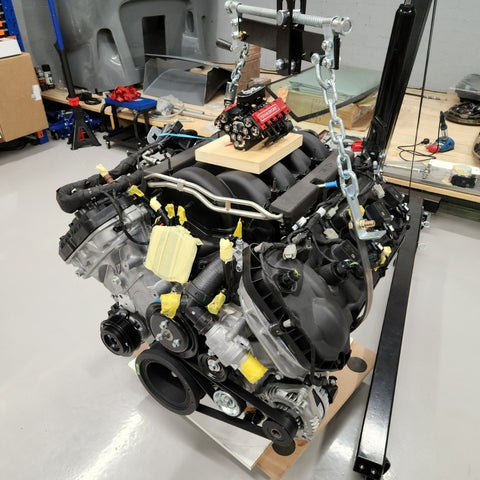 8.I'd like to ask if you've seen any mini engine models like ours in Australia. Are there any engine flea markets?
There are a number of specialty scale model shops around that carry different nitro/gas powered RC cars, however the range they have available varies from store to store. I've not seen many different mini engine models, other than the standard setups available, but maybe I'm just looking in the wrong places!


 9.It's a pleasure to work with you and thanks again for your time to review our Toyan engine. so I would like to invite users like you who have actually used our engine to give us some real suggestions for our website, stirlingkit.com. This way we can constantly improve ourselves based on your feedback and strive to bring more quality engines to the engine model community. Any advice would be greatly appreciated.
I know that you offer different bundles, such as a model engine and starter kit, but I think it would be good to expand that and offer a complete kit to allow the model engines to be adapted to an RC car platform. Basically so those who are not familiar with the different components they would need can simply select a complete kit and be able to start modifying their RC car to fit the model engine. Other than that I think the website presents really well and contains a good amount of information about the different kits and other hardware available.
10.Could you share your life slogan with us if possible?


Hard work and determination will pay off eventually, you just need to set realistic goals/expectations and ensure there are some easy wins along the way to keep yourself motivated!