danna Posted on June 18 2020
How Does Clutch Work ?
Before we get started, we need to know how does clutch work ?
The power of the engine → clutch → transmission → drive shaft → universal joint → final reducer → differential → half shaft → finally transmitted to the driving wheels.
The drivetrain means the power transmission device between the car engine and the drive wheels. The drivetrain includes clutches, transmissions, drive shafts, final drive, differentials and half shafts. It should ensure that the car has the particular traction and speed under various driving conditions, as well as ensure the coordinated change between traction and speed. So that the car has good power and consume less fuel; it can also reverse the car, and the left and right drive wheels can adapt to the requirements of differential speed, and makes the power transmission energy pattern smoothly combined or completely and quickly separated. 
 What's New With Toyan?
As we all know, Toyan has released the new Toyan FS-L200 two cylinder four stroke nitro engine in early June, 2020. Fortunately, after several months of debugging, Toyan has developed a power package for a 1/14 Tamiya 56301 rc truck tractor based on the FS-L200 engine. Toyan has made a large-diameter compound four-friction clutch to achieve large-area contact with the clutch cover at low speeds, which allows the FS-L200 to linearly cooperate with the gearbox output to avoid clutch overheating damage. Combined with all-metal CNC copper gearbox, the FS-L200 power can be smoothly output, which improve its output performance in the low speed range.

This set is compatible with Tamiya 1:14 remote control tractor. It's simple and convenient to upgrade and modify. Now it is officially released in stirlingkit.com. Welcome to book it in advance. 



1. Simulative Structure Design
Toyan simulates the structure design to keep the Original Car Shape unchangeable.






2. Adapt to Tamiya 1/14 Tractor
This power package is suitable for Tamiya 1/14 56301 car  without modifying its original structure.

3. Simple Installation
it's easy to adapt and install. It's aimed to restore the real structure of the tractor.






4. Quiet & Stable Operation
It's a perfect choice to use four-throw block high-friction composite material clutch and full metal CNC copper gearbox. It works smoothly and stable.






5.Gorgeous Apperance
By replacing different tractor shells, this power package can have a different appearance.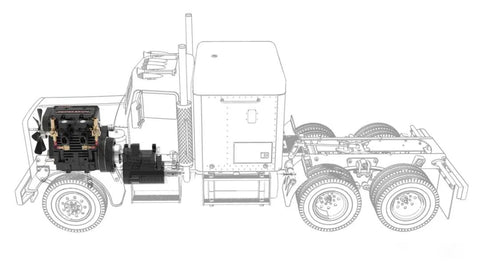 Where to Buy:
TOYAN FS-L200
Power Package: