Welcome to Stirlingkit Rewards! This page explains all the ins and outs of our Rewards program.
This program was launched March 23, 2021 and will apply to all purchases made after release.
HOW IT WORKS
1. For every $300 you spend on stirlingkit.com, you will be awarded a $10 gift card! Gift cards from Stirlingkit Rewards may only be redeemed if they total to $1000 or more. We'll display all the gift cards you have on this page, so you can keep track of your collection.
2. 5$ gift card is provided for customers that review products in stirlingkit.com.  A 10$ off code will be offered if you give a 5-star review with photos. A 15$ gift card will be offered if you share the photos of the item you bought from stirlingkit.com in the social media, like facebook, instagram, youtube or twitter etc..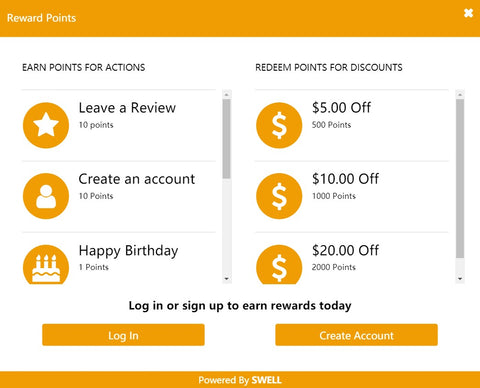 IMPORTANT DETAILS
To be eligible, you must have a registered account that is subscribed to our newsletter. Canceling a subscription will result in a loss of progress. 

If you are subscribed to the newsletter, there will be a white box on the bottom right of the My Loyalty Rewards section of your profile that says "You are signed up for our newsletter." If you are not subscribed, there will be a grey box asking for your email address.  

Registering an account or subscribing after purchases are made can retroactively grant points. For example, if you spend $400 before formally registering an account or subscribing to our newsletter, you will retroactively gain progress if you make an account and subscribe under the same email where the order(s) were placed. 

A gift card generated by Stirlingkit Rewards will always begin with "reward" so that it's easy to spot. 

These gift cards never expire! They'll be stored on your account as long as you continue to meet the requirements. 

Please make sure to check that your email associated with is accurate. We will deliver all earned Rewards to that email address.

Purchase totals are determined after applying any discount codes, and do not include shipping/tax charges, if any.

Purchases made with gift cards are counted and contribute to your rewards. However, purchases of gift cards do not contribute to your Rewards, because that would be silly.

The total amount towards Rewards is cumulative and carries over. For example, if you place a $299 order today and a $399 order next week, you'll earn a total of $30 after the second order. You'll also have $20 leftover, so if you place an $118 order later, you'll earn $10 more in Rewards. You can check your progress using the bar on your

 

personal Rewards page

.

Stirlingkit Rewards are currently not available for on-site vending, wholesale orders and/or special custom services.

We reserve the right to alter or terminate Stirlingkit Rewards privileges if we notice abuse of any kind.