danna Posted on November 21 2022
Stirlingkit's Black Friday deals got started on Nov. 22 at 0 a.m. ET and ends Nov. 28, 2022, so what can you expect when it comes to the deals? I'm here to spell out exactly what to expect from Stirlingkit's Black Friday in 2022, which include deals on 4 stroke engines and internal combustion engines, and stirling engines(yes, Toyan deals and Cison Engine deals are included!), as well as up to 20% off Howin engines and more. We're seeing $59.99 Sterling engine kits and and $899 Howin high-performance rc engine model —just to list a few of our faves.

Wondering if you can use a coupon during Stirlingkit's Black Friday? You bet! In the Stirlingkt's 2022 Black Friday ad, there is a coupon code B15 for an extra 15% off your purchase. There are exclusions, so be sure to read the fine print. See below for more info. Black Friday deals are will be on now, and we're here to bring the you best deals and your guide to saving in Stirlingkit.com 
1. Stirlingkit's Black Friday deals start on November 22, 2022, ends in November 30, 2022.
CONTENTS
 We've separated engine gifts by price range, so you can find exactly what you need, at exactly the cost you want. You can check all the current deals out below.
Top 2022 Black Friday Deals at Stirlingkit 2022
was $59.99 now $47.99 at Stirlingkit (20% Off)
No Black Friday sale is complete without STEM toys deals and Stirlingkit is offering some of the best discounts this week for sterling engine kits, mini v8 engine kits, flyling dragonfly kinetic scupture on sale from $47.99. For instance, you can get the (pictured) golden stirling engine Set on sale for $47.99, a discount of $20% off.
was $129.99 now $103.99 at Stirlingkit (20% Off)
STIRLINGKIT's early Black Friday deals include the 2022 MAD RC V8 model at just $103.99 - a fantastic value for a miniature v8 engine build. The v8 engine kit is an affordable plastic engine that can cover your basic building engine needs for your AXIAL AX90104, SCX10, VS4-10 Pro scale crawler, Capra buggy or Ultra.
was $149.99 now $119.99 at Stirlingkit (20% Off)
The flying dragonfly in the lotus lake kit is a 100PCS-componets ultra beautiful metal sclupture, which is an affordable but dependable model kits with listed parts and hard gift box. It combines new-birth lotus flower and self-realized dragonfly, which brings about a deeper understanding to the meaning of life. It takes 30 to 60 minutes to put it together. Every purchase of the dragonfly comes with a step-by-step English instruction to  to boost your productivity and imagination, alongside a battery that can last up to 3 hours on a single charge.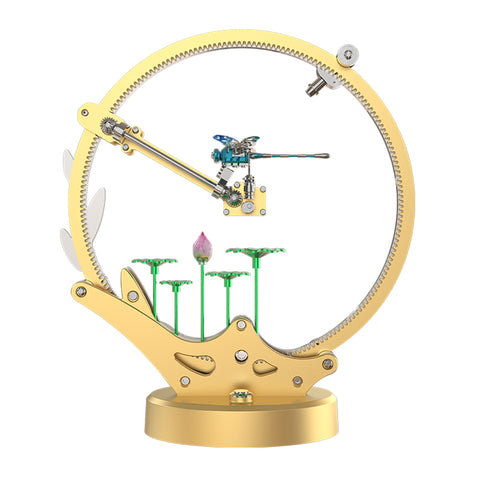 was $349.99 now $279.99 at Stirlingkit (20% Off)
Save $50! The ENJOMOR 6cc Antique Red Hit and Miss Gas Engine, which delivers engine-beating performance. It's also ENJOMOR's first internal combustion engine featuring a 6cc throttle governed hit n miss with classic red color. Best gift for farm lover.

was $469.99 now $375.99 at Stirlingkit (20% Off)
If you're still looking for the perfect engine kits to build for Christmas, Stirlingkits Black Friday sale has this 400-piece 4-cylinder engine model kits on sale for just $375.99. The top-rated Christmas engine kits for adults features full metal engines with listed accessories on the metal gift box. A nice engine gift to better understand how engine works.  It is easy to assemble with step-by-step paper instruction. 

was $469.99 now $375.99 at Stirlingkit (20% Off)
If you're looking for an unique gift idea for today or future-to-be aircraft mechanics you've come to the right place. Stirlingkit has knocked the radial engine kits down to $375.99 from $469.99, which is a great price for its CNC manufacturing, afforable biulding engine model. 
was $599.99 now $479.99 at Stirlingkit  (20% Off)  
Lowest price ever! The Cison v2 engine FG-VT9 is a fully working miniature Panhead for any motorcylists. This palm-size works well with its excelent workmanship and durable performance and less maintainance.The Stirlingkit Staff's Choice V-twin holds a spot in our list of the best scale model engines. It's currently on sale at its lowest price ever. 
was $699.99 now $559.99 at Stirlingkit  (20% Off)  

20% off! This is the lowest prices we've had for this Teching mini car engine model kits. Have you still remember the time that your dad built a visible V-8 Engine plastic model Kit with you when you were a little kid? Get this metal v8 engine for him. Make his dream come true. The working v8 engine kits is 20% off right now at Stirlingkit, offering an unique building experience to learn how an v8 engine works, a durable engine material and step-by-step building manual in a metal package. the best engine gifts for any 10-years-old and up car enthusiasts.
was $999.99 now $799.99 at Stirlingkit  ($200 Off)  
Stirlingkit's early Black Friday deals include this stunning HOWIN L4-172 on sale for $799.99 - the lowest price we've ever seen. This rc engine set is featured with SOHC design with great throttle response and strong water pump, an easy-to-use operating system, and full HDR support - an incredible value for a 15000 rpm 17.2cc accurately detailed engine model under $800. A real masterpiece not just on the desk but for your rc model instead.
was $999.99 now $719.99 at Stirlingkit  (20% Off)  
The Toyan FS-L400 is an excellent High Simulation engine model, and for a limited time you can get a new one at a discounted price. Stirlingkit is offering the 14cc inline four model engine kit for $719.99 instead of $819.99. In our nitro engine review, we called the Toyan L4 engine the best engine kits you can buy. Only Stirlingkit offer the deal. Toyan is passionated to machine the engine motors with the highest precision and quality. Yours too? Check it out now! Build your own inline four engine model kits. Let yourself be inspired by our unique and fascinating 13500rpm precise kits - build your own model! Find something memorable, join Stirlingkit's community doing good.
was $999.99 now $719.99 at Stirlingkit  (20% Off)  
If you want a knucklehead engine without a big price tag, this RETROL engine set is definitely worth a look. Take it home and you hear the best engine sound ever. Who can resit the v twin engine sound, right? The R29 V2 engine has feature with with classic body lines and cold-cooling structure, with authentic engine details, including a new carburetor and lift throttle. 
Deals from $1359.99 at Stirlingkit  (20% Off)  
View More
Perhaps today's best early Black Friday deal is Toyan's best-selling V8 engine FS-V800 on sale from $1359.99 - a new record-low price and $60 less than last week's deal. Toyan's all-new 100-parts v8 engine is design for any  1/10 scale RC car, which include improved highly precise CNC machined quality and well engine design and include a detailed building instruction. No matter if you prefer gas or nitro, both choices are available to choose from Stirlingkit. Toyan V8 engine is the world's FIRST 8-stroke fully functional engine model to build, showing how the real engine works in reality. the best gift for the mechanics. Let's grab the deals and start your engine tour.
 We're updating this guide several times a day so you don't miss a great sale. So read on for all the best Black Friday deals we've had so far.